DALE MURPHY
TRIBUTE PAGE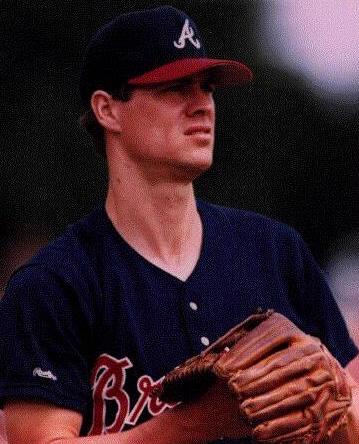 DALE MURPHY was probably one of the nicest men in baseball. Hopefully Murphy will be elected into the Major League Baseball Hall of Fame on the first ballot, but if not Dale will certainly be inducted soon thereafter. The Murph won two National League MVP's back-to-back in 1982 and 1983. Murphy ended his career only two home-runs short of 400, which places him 24th on the all-time home run list. In the 80's Dale ranked second in homers and RBI's. Murphy tied a major league record on July 27, 1989 by hitting 2 home-runs and knocking in 6 RBI's in ONE inning! Murphy began to decline in 1988 which is the same year he had his infamous mole removed from his right cheek. Maybe the mole was lucky!?!? Murphy cranked out at least 20 homers and 77 RBI's each season during the 80's except the strike shortened season of 1981. Murphy was traded from the Braves to the Phillies and later to the Rockies, but when the "Murph" is enshrined in Cooperstown he will once again be an Atlanta Brave for the rest of time.


---

Chuck Tanner - " I've never known anyone like him, God only makes one like Dale every 50 years."

Nolan Ryan - " I can't imagine Joe Dimaggio was a better all around player than Dale Murphy."
---
The Dale Murphy Induction Society - help Murph get into the Hall of Fame and maybe get an autograph.
Forever A Brave - A Tribute to Dale Murphy - this is the best Murph page on the net I spend most of my day visiting here.
Big Jacobi - The Cove - back to my home page
if anyone knows where I can get a 89 Upper Deck reversed negative of Dale let me know

hits since 1/31/97. Thanks for visiting!!
E-MAIL ME AT

BIG JACOBI

This page has had over 500 hits in the last year Thanks!!!
page last updated - 3/8/98

This Atlanta Braves Players Web Ring site

is owned by

David Jacobi.

[ Previous 5 Sites | Skip Previous | Previous |

| Next | Skip Next | Next 5 Sites |

| Random Site | List Sites |

Join the Atlanta Braves Players Web Ring! ]

dale murphy dale murphy dale murphy dale murphy dale murphy dale murphy dale murphy

dale dale dale dale dale dale murphy murphy murphy murphy